We're counting down the days til the Miss Babs Trunk Show arrives here in the shop. Babs herself will be bringing lots of samples and yarn (many of which will be a surprise, even to us!!), and this is an excellent opportunity to see all of their yarn bases, kits and samples in person.

Mark your calendars for March 16 and 17, from 10am-4pm each day; until then, let us tantalize you with some of our favorite patterns from their newest collection!


Coastal Highway by Lisa K. Ross is an absolutely stunning shawl! It pairs a bit of mosaic knitting with simple lace and soothing garter for an interesting knit using a gradient set of mini skeins and a few skeins of fingering weight yarn for your main color.


Another great pattern using gradient mini skeins, Knitting With Fronds by Jennifer Weissman is a versatile piece that can be worn as a shawl or a scarf. Simple stripes and garter are all you need to make this eye-catching accessory!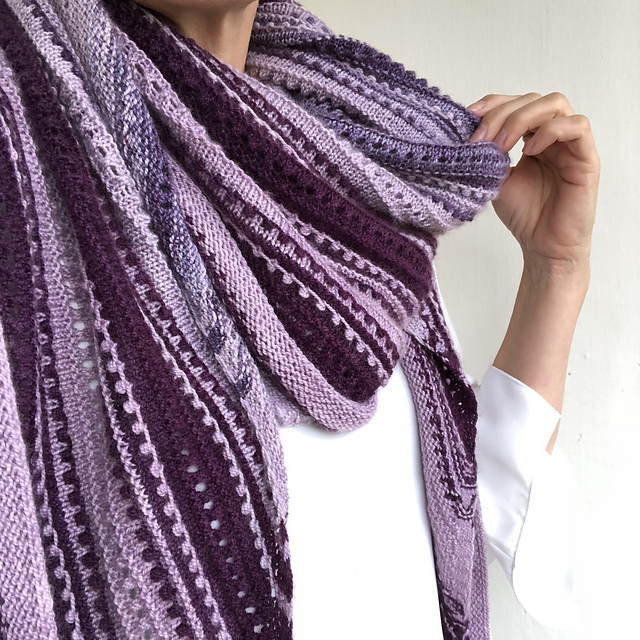 Katrin Schubert's Urchin alternates two stitch patterns, garter stitch with lace and tiny bobbles, to create a crescent shaped shawl that looks a lot like its namesake! Combine your two favorite semisolid and variegated colors of Caroline to make this satisfying textured knit.


Maritima by Susanna IC features one of our favorite motifs: the ocean! This pretty shawl is knit with a gradient set, worked in a traditional Shetland pattern reminiscent of rippling ocean waves adorned with lacy foam.


As the seasons change, a few layering pieces are always good to keep on hand. Sempervirens by Veronica Parsons is an oversized cardigan you can snuggle up in whenever the temperature drops. Best of all, you only need 1-2 skeins of Katahdin to knit this sweater.


Another great layering piece, Into the Deep by Renee Callahan pairs a variegated yarn with a rich semisolid to knit a simple slipped-stitch pattern in the yoke. This roomy cardigan features a deep V-neck and is knit seamlessly from the top down you can wear for just about any adventure.


The Cedar Bark Raglan by Kirsten Kapur is knit from the top down and features a cable pattern running from neckline to hem at the center front. This classic sweater is a wardrobe staple for sure!

Like this post? Pin it!