The term "Fair Isle" is used quite a bit to describe patterns using multiple colors of yarn, but did you know that there are several different kinds of colorwork knitting techniques? Today, we'll give you an overview of four popular techniques, and then explore Fair Isle and stranded colorwork knitting techniques in-depth.

Fair Isle & Stranded Colorwork Knitting
The term "Fair Isle" is used quite a bit to describe patterns using multiple colors of yarn, but did you know that there are several different kinds of colorwork knitting techniques? Today, we'll give you an overview of four popular techniques, and then explore Fair Isle and stranded colorwork knitting techniques in-depth.
Types of Colorwork Knitting
Intarsia is a technique used to create anything from simple shapes to intricate pictures in your knitting. With Intarsia, different sections of each row are worked in different colors. Intarsia is different than stranded knitting in that the knitter doesn't carry the unused yarn behind the work, but instead drops the old color, brings the yarn for the new color up under the yarn of the old color, and then continues on knitting in the new color until the next color change or the end of the row. This method twists the yarns to close any gaps between the old and new colors.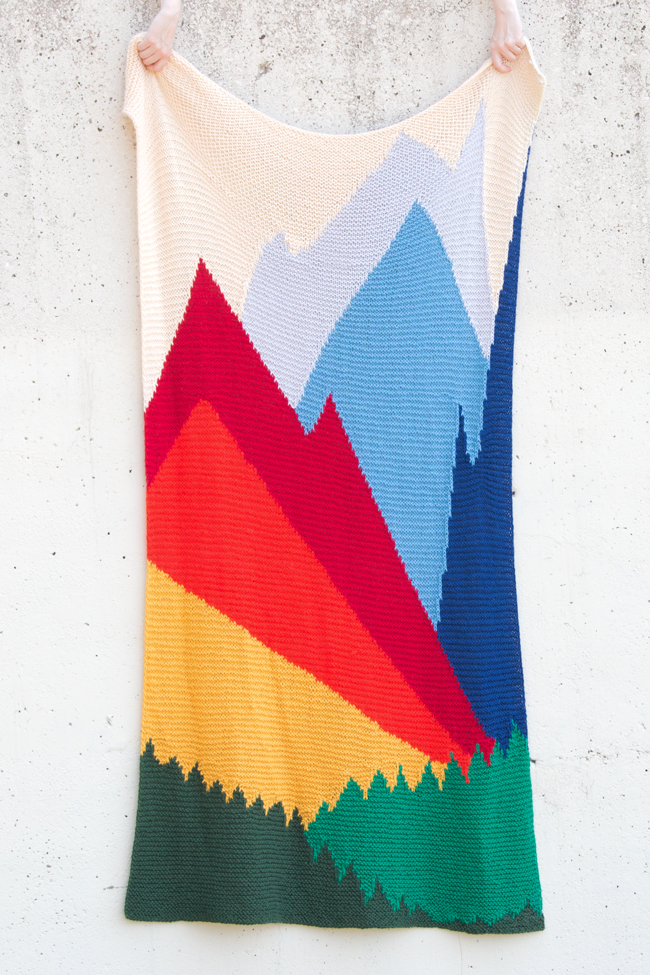 Intarsia Example: Intarsia Mountain Blanket by Heidi Gustad
Mosaic or slipped stitch knitting is probably the easiest of the colorwork techniques to learn. In mosaic knitting, you work with two colors to create intricate designs - but you only knit with one color at a time! This technique is a lot like knitting stripes, only you'll just slip certain stitches on a row as you work. Because you are slipping the stitches, there is a limit to how many slipped stitches can be worked consecutively (usually only two or three maximum). This means that mosaic knitting often ends up looking very geometric, like mosaic tiles. If you're looking for more information about this technique, check out this article about mosaic knitting from Knitty.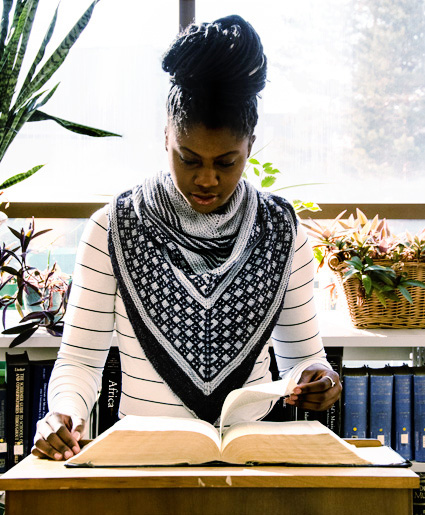 Mosaic Example: Study Hall Shawl by Sarah Schira
Stranded knitting is a technique where you carry two or more yarns as you work to create patterns in your knitting. The unused colors are simply carried behind your work when not in use, creating floating strands which can be seen on the wrong side of the work. Stranded knitting tends to produce a very warm fabric, because each stitch is essentially two layers of yarn thick.
Fair Isle knitting is a specific kind of stranded knitting where only 2 colors are worked per row, and the yarn is only carried behind the work for a limited number of stitches. Fair Isle knitting originated in the Shetland Islands. Today, most knitters use Fair Isle and Stranded Knitting interchangeably, although they are distinctly different. Kelbourne Woolens features a great article describing the differences between the two.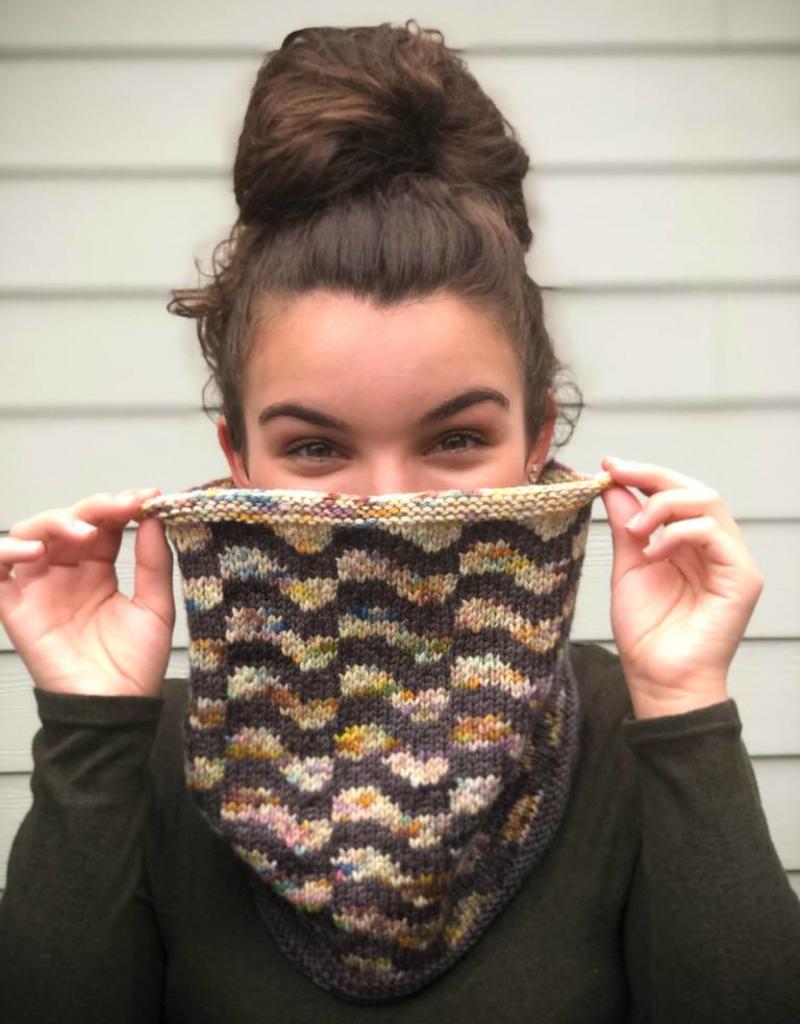 Fair Isle Example: Suburban Warrior Cowl by Tanis Gray, featured in an upcoming workshop with the designer in our shop!
Colorwork Knitting: Yarn Management
If you're new to working with multiple colors of yarn, one of the most difficult things to master is how to manage your yarns and keep your floats (or strands) at the right tension as you work. Too loose and your stitches look messy; too tight and your knitting puckers. They key to this is practice, but we have also found learning to knit with a two-handed Fair Isle technique (that is, knitting with one yarn held in each hand) makes this easier: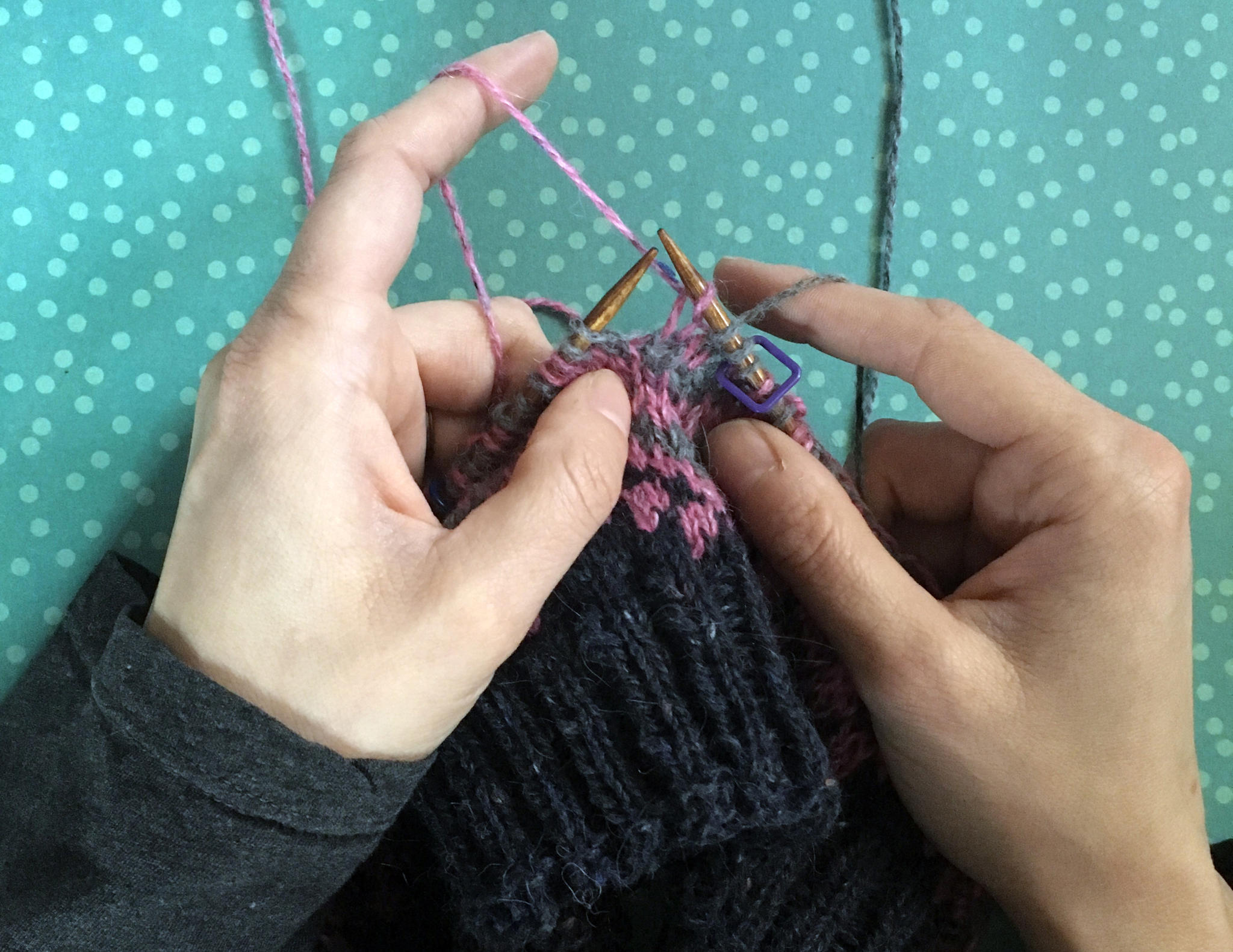 It may help to recite to yourself "light on right!" when you're first getting started - essentially, you will be knitting any light-colored stitches with your right hand by wrapping the yarn around your needle (often referred to as "throwing" or the English style of knitting).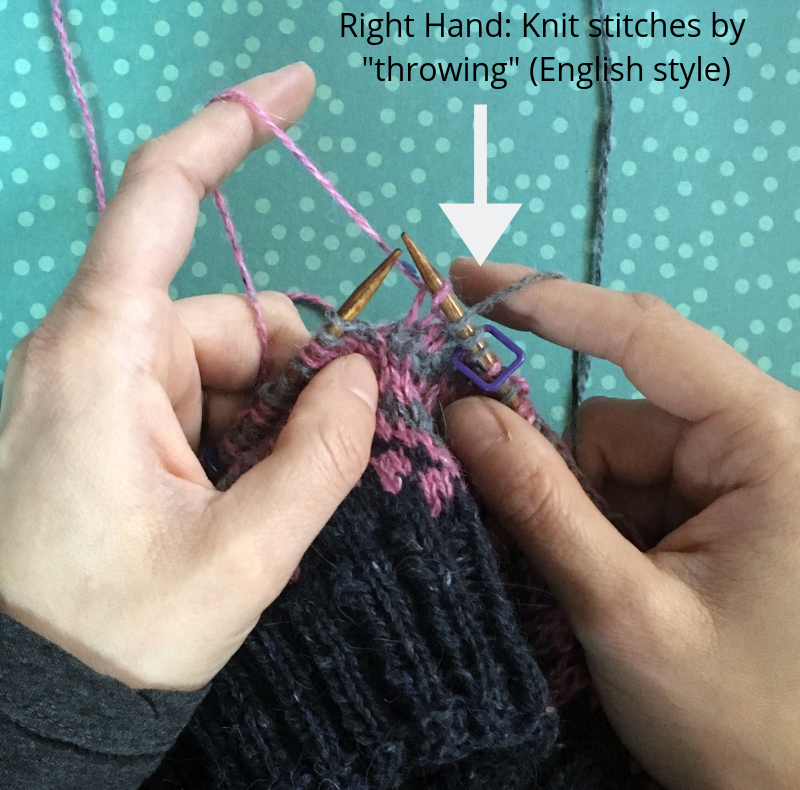 When it's time to knit a dark-colored stitch, you will keep the yarn in your left hand and use the right hand needle to "pick up" the stitch through your working look (also known "picking" or the Continental style of knitting).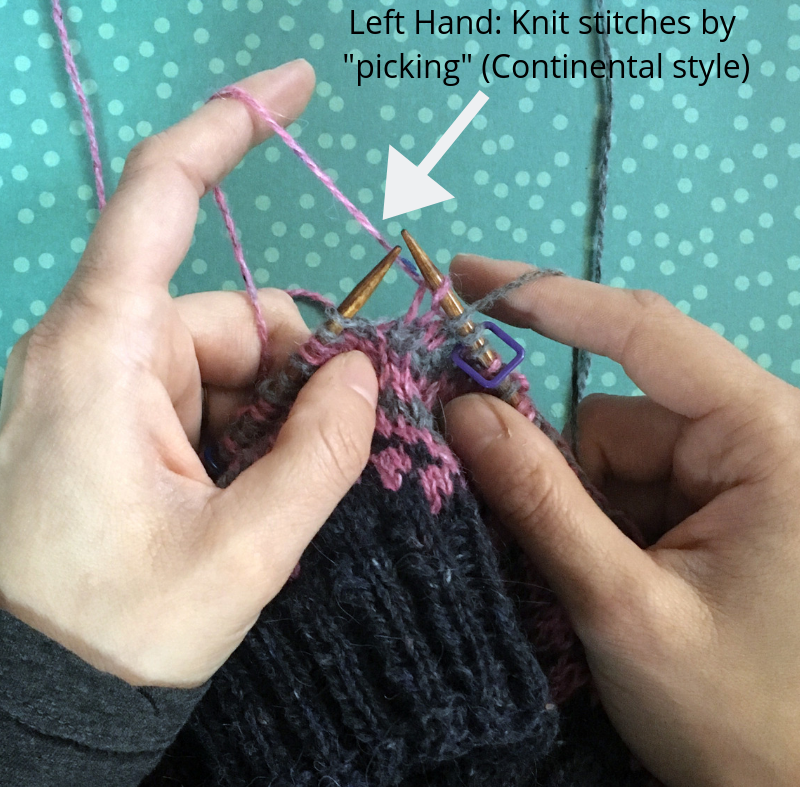 Once you master this method, you'll be able to knit your colorwork projects much faster!
More Tips & Tricks For Colorwork Knitting
What we love about knitting is that there is always multiple ways to do something. While we absolutely love the two-handed technique described above, some knitters find it easier to alternate between the strands of yarn as they work, picking up and dropping each one as needed. This technique is totally fine, but you'll want to take care that you use each color consistently as you switch between them - that is, one color should be held so that it's always coming from underneath the other one (and vice versa). The yarn that is held underneath will be "dominant" in your finished project, so you may want to play around with how you hold your colors when knitting your swatch. This is known as color dominance, and Ysolda Teague has a fantastic in-depth tutorial on her blog that is worth checking out.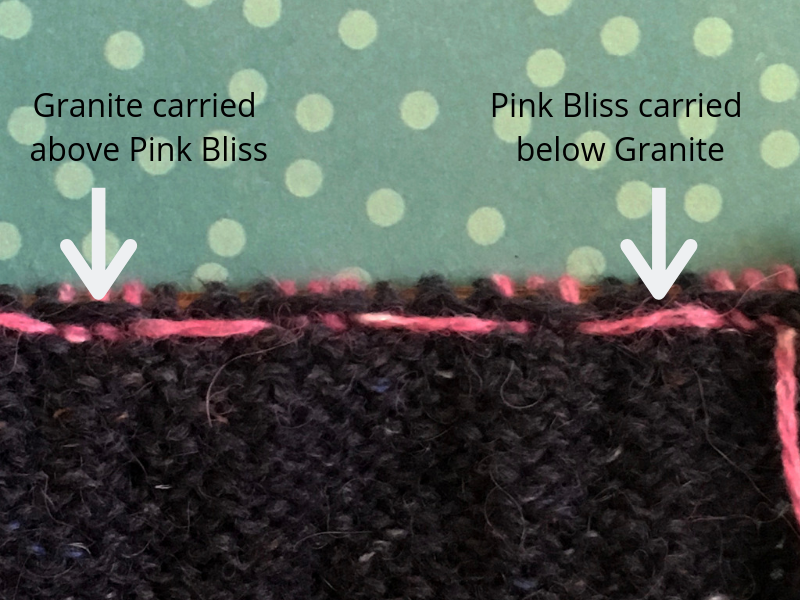 We've mentioned that maintaining even tension is key to a beautiful finished project. Tight knitters in particular may struggle with puckered stitches, and for anyone who can't seem to hit that "sweet spot" for keeping even floats that are neither too tight or too loose, here are two tips to try:
Tip #1: If you are knitting in the round, try turning your project inside out! You will still be able to work the pattern with the right side fabric facing you, but you'll have the benefit of the floats happening on the outside of the tube you are knitting, rather than the inside. The outside of your knitted tube has the larger circumference, which makes your floats just a tiny bit longer - plus, you can keep better tabs on them as you work. The only difference will be that the working yarns are closest to you when knitting right side out, whereas the working yarns are farthest from you when knitting inside out.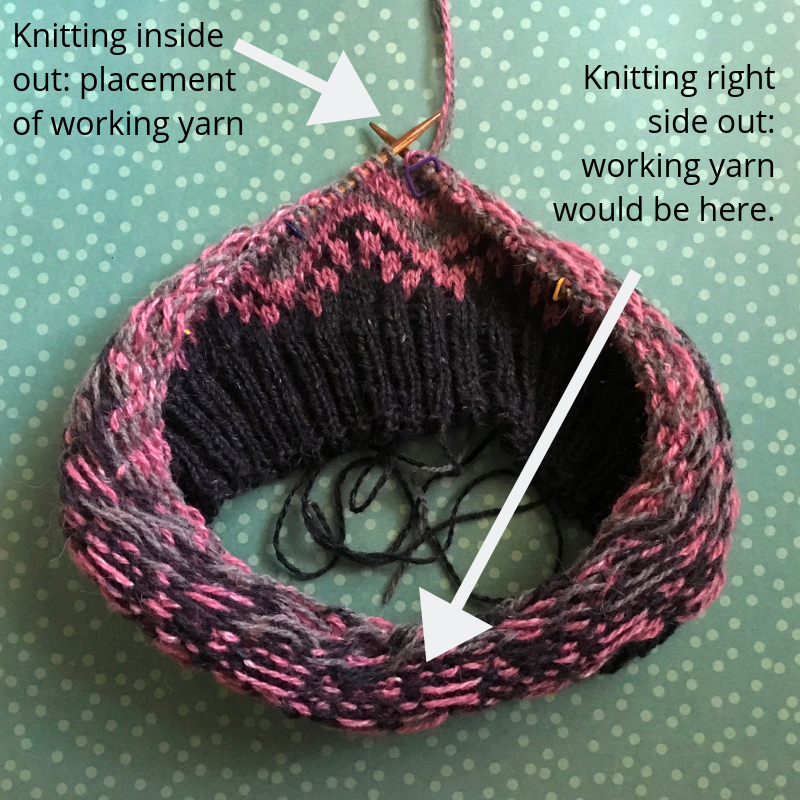 Tip #2: If your stitches continue to be way too tight, try going up 1, 2, or even 3 needle sizes from what you've been using. It may seem scary or a bit extreme to use a needle size that is so much larger than what's called for in the pattern, but remember that every knitter is different, and you may need to use a different needle size in order to get the correct tension and gauge.
Learn More With Classes & Workshops
We hope you find these tips helpful, and invite you to join us for hands-on learning at our shop in beautiful Sarasota, Florida! Our sample project pictured in this post is the Immortalists Cowl by Caitlin Hunter, which we use in our popular colorwork class that will be added to our calendar soon (click here for more details). We're using one of our favorite yarns, Rowan Felted Tweed - and did you know that we are a Rowan Yarns Flagship shop?
Later this month, Tanis Gray will be visiting the shop and sharing her Fair Isle knitting know-how with us in two fabulous classes, Fair Isle 101 and the Fair Isle Cowl Workshop. She'll also teach an in-depth workshop on the history and mechanics of lace knitting in Lace Forensics, and cover the ins and outs of cable knitting with her Agate Cabled Hat Workshop. We hope you'll join us for a fun-filled weekend of learning with this talented designer!
Like this Post? Pin it!